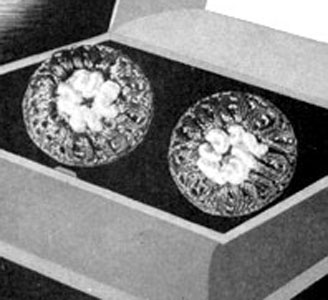 MATERIALS
CLARK'S O.N.T. or J. & P. COATS BEST SIX CORD MERCERIZED CROCHET, size 30, 1 ball of any color.
CLARK'S O.N.T. or J. & P. COATS SIX STRAND EMBROIDERY FLOSS, 1 skein each of 2 contrasting colors.
Steel crochet hook No. 10.
2 earring bases.
2 buttons, ¾ inch in diameter.
½ yard round elastic.
EARRINGS ... Ch 2. 1st rnd: 7 sc in 2nd ch from hook. Do not join rnds. 2nd rnd: 2 sc in each sc around. 3rd rnd: * Sc in next sc, 2 sc in next sc. Repeat from * around (21 sts). Continue thus, increasing 7 sts evenly on each rnd until surface of ¾-inch button is covered. Work 2 rnds straight. Slip button inside this piece. Then dec 7 sts evenly on each rnd until opening is closed—to dec, work off 2 sc as 1 sc. Sew onto earring base or cement onto an old earring.
Using full strand of one color of Six Strand, embroider French knot stitches (6 times around needle) closely around center; with remaining color, work lazy-daisy stitches all around French knots.
other patterns in leaflet: