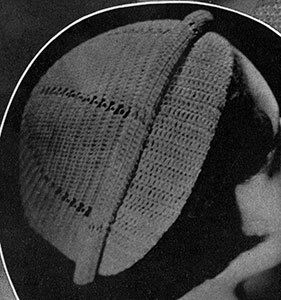 Materials: Clark's O.N.T. Knitting & Crochet Cotton, 1 ball. (Or Clark's O.N.T. or J. & P. Coats Mercerized Crochet Size 20 White or Ecru, 2 balls.) Milward's steel crochet hook No. 4.
CROWN. To begin, ch 6 and join in a ring with sl st. 1st rnd: Ch 3, * 1 knot st, 1 d c in ring. Repeat from * 4 times more, then 1 knot st, 1 d c in 3rd st of ch-3 first made. 2nd rnd: * 1 knot st, 3 d c in d c of previous rnd, and repeat from * 6 times more. 3rd rnd: * 1 knot st, 2 d c in 1st d c of 3-dc group (this is an increase), 1 d c in next d c, and 2 d c in last d c of same 3-dc group. Repeat from * 6 times more. 4th to 13th rnds incl: Continue making knot sts over knot sts and 1 d c increase in both the 1st and last d c of each d c group. 14th to 30th rnds incl: Hereafter there are no increases. Work 1 d c in each d c and 1 knot st in each knot st of previous rnd. (If Mercerized Crochet thread is used, it will be necessary to crochet about 10 more rnds in order to make the crown deep enough to roll.) Roll up the last 15 or 20 rnds and tack firmly in place.
HEAD BAND. Ch 20, turn. 1st row: 1 d c in 4th ch from hook. 1 d c in each of the following sts of foundation ch. Ch 2, turn. (Ch 2 at beginning of each row counts as 1 d c.) 2nd and subsequent rows: 1 d c in each d c of previous row. Ch 2, turn. Work until head band measures headsize. Join ends together with s c. Place headband on the head in position and drape crown of hat, tilted down over the right eye and up in the back. Pin in place and sew.
other patterns in leaflet: