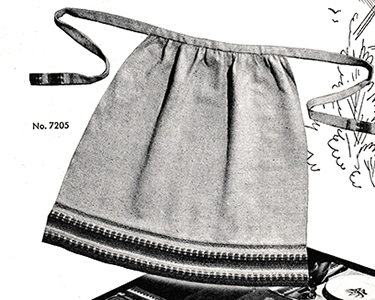 Materials: Clark's O.N.T. or J. & P. Coats Pearl Cotton, size 5, 1 ball each of Blue, Red, and Yellow.
Milward's steel crochet hook No. 7 or 8.
½ yd. cotton crash, 50 inches wide.
Gauge: 10 sts make 1 inch; 4 rows make 1 inch.
Border … With Red ch 232 (10 ch sts to 1 inch) and work as for place mats until 2 complete stripe patterns are made. Fasten off.
Ends of Ties (Make 2) … With Red ch 12 and work 2 complete patterns. Fasten off.
Cut a piece of cotton crash 17 x 24 inches. Make a ¼-inch hem on 1 long and 2 short edges. Shir other long edge to measure 14 inches. Cut 2 strips 2 x 31 inches for ties. Sew 2 short ends together (center front seam). Sew right side of tie along right side of shirred edge. Turn tie over the shirring to wrong side of apron, and sew in place, turning under raw edge. Sew remaining edges of ties together, turning in raw edges. Sew crocheted border to lower edge of apron. Sew crocheted ends to fabric ends of ties.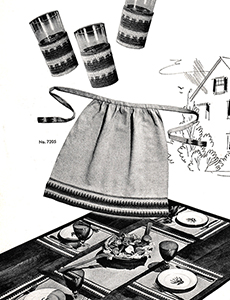 other patterns in leaflet: