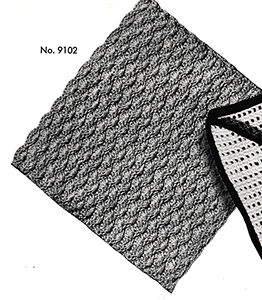 Materials: Clark's O.N.T. or J. & P. Coats Pearl Cotton, size 5, 3 balls.
Milward's steel crochet hook No. 7.
A bone ring.
Starting at bottom, make an 8-inch chain. 1st row: 2 d c in 4th ch from hook, * skip 2 ch, s c in next, skip 2 ch, 5 d c in next (shell). Repeat from * until row measures 6 inches, ending with 3 d c (instead of 5). Cut off remaining chain. Ch 1, turn. 2nd row: S c in 1st dc, * 5 d c in s c between shells, s c in center d c of next shell. Repeat from * across, ending with s c in last d c. Ch 3, turn. 3rd row: 2 more d c in 1st s c, * s c in center st of next shell, 5 d c between shells. Repeat from * across. Ch 1, turn. Repeat 2nd and 3rd rows alternately until piece is square. Fasten off. Make another piece like this.
Make a pad of flannel or any soft material, slightly smaller than crocheted pieces. Tack to back of one piece, and sew pieces together with neat over-and-over stitches. Sew ring to one corner.
other patterns in leaflet: