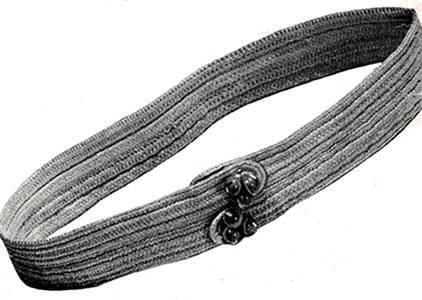 Materials: Clark's O.N.T. or J. & P. Coats Pearl Cotton, size 5, 8 balls of any color.
Milward's steel crochet hook No. 7.
A 9-inch zipper.
38½ yds. heavy wrapping cord or twine (32 yds. for bag; 3½ yds. for belt; 3 yds. for hat band).
3 decorative buttons.
BELT No. 2384-B
For All Sizes
Make a chain 35 inches long. Work across chain as for handle of bag until row measures 29¾ inches, for 28-inch size. (For other sizes, allow necessary waist measurement plus 1¾ inches.) Cut off remaining chain, and complete piece as for bag handle. Make another piece like this. Sew 1 long edge of each piece together neatly on wrong side, leaving all ends free for 1¼ inches. Overlap alternate ends (see illustration), and fasten with hooks and eyes. Sew a button at alternate ends.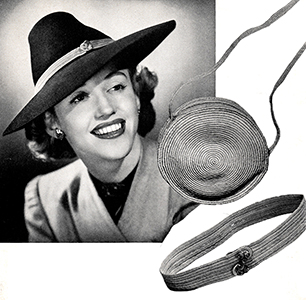 other patterns in leaflet: