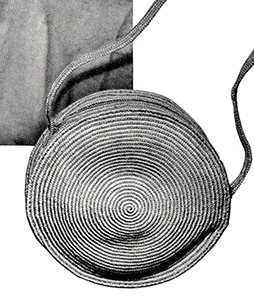 Materials: Clark's O.N.T. or J. & P. Coats Pearl Cotton, size 5, 8 balls of any color.
Milward's steel crochet hook No. 7.
A 9-inch zipper.
38½ yds. heavy wrapping cord or twine (32 yds. for bag; 3½ yds. for belt; 3 yds. for hat band).
3 decorative buttons.
BAG No. 2384-A
Attach thread to end of cord and tie securely. Then work s c closely together over cord for 1 inch. Twist s c-cord into a firm circle and, working over cord, make 2 s c in each st around. Continue in this manner, making necessary increases to keep work flat and to completely cover cord—to inc., make 2 s c in 1 s c—until piece measures 8 inches in diameter. Now work 5 rnds straight, being careful not to draw cord tighter than circumference of 8-inch circle. Cut cord and fasten off securely. Make another piece like this.
Sew pieces together on outer rnds, leaving a 9½-inch opening for zipper. To emphasize last flat rnd on each piece, sew a strong running stitch all around, inserting needle from top of rnd to base, then from base to top. Sew zipper in place.
Handle … Make a 1-yd chain (10 ch sts to 1 inch). Working over cord, make s c in each ch across for 32 inches, picking up only 1 loop of each ch. Make 5 s c in next ch; cut off remaining chain. Work over cord along other side of foundation, picking up 1 loop of each ch. Make 5 s c in last st to correspond with opposite end. Continue for another complete rnd of s c, increasing at ends to keep work flat. Drop cord; s c in next st, sl st in next st. Fasten off.
Line bag, if desired. Sew handle to bag as in illustration.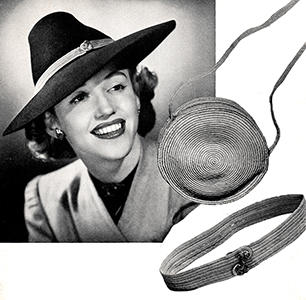 other patterns in leaflet: