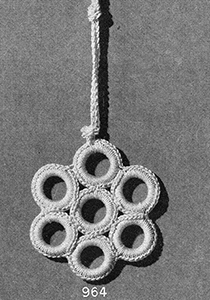 Required yardage is specified for each design. Choose one of the following threads in size 5:
Clark's O.N.T. Mercerized Crochet.
J. & P. Coats Mercerized Crochet.
J. & P. Coats Big Ball Best Six Cord Mercerized Crochet.
Clark's Big Ball Mercerized Crochet.
Materials: About 12 yds. are required for 1 curtain pull.
Milward's steel crochet hook No. 5 or 6.
7 bone rings, ⅝ inch in diameter.
Rings. Make 32 s c in one bone ring. Join with sl st, fasten and break off. Make remaining 6 rings in same way. Arrange rings as in illustration and sew them together with over-and-over stitches on wrong side.
Cord. Make a chain to measure 24 inches long. Join the 2 ends together and join to center of one ring. Then knot at 6 places as in illustration.
other patterns in leaflet: