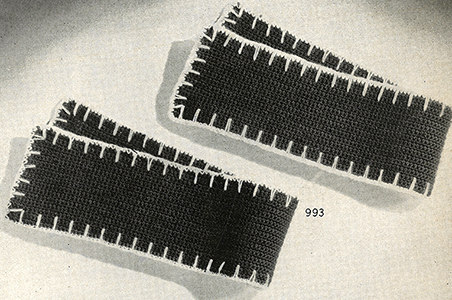 Materials: Clark's O.N.T. Knitting and Crochet Cotton, 1 ball each of Skipper Blue and White.
This amount is sufficient for 1 pair of tie-backs.
Milward's steel crochet hook No. 3
When completed, each tie-back measures about 16 inches long and 3 inches wide.
Gauge: 8 sts make 1 inch; 9 rows make 1 inch.
Starting at long end, with Skipper Blue make a chain about 18 inches long. 1st row: Skip 1st ch, * s c in next ch. Repeat from * until row measures 16 inches. Cut off remaining ch. Ch 1, turn. 2nd row: S c in each s c across. Ch 1, turn. Repeat 2nd row until piece measures 3 inches. Break off.
Edging. Attach White at one long end and work as follows: * S c in each of 3 s c, s c in 4th row from edge (1 long s c made). Repeat from * around, making 2 s c at corners. Fasten to window frame with push pin.
other patterns in leaflet: