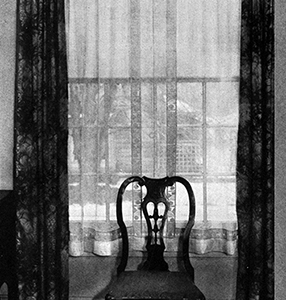 Materials: Choose one of the following threads in White:
Clark's O.N.T. Mercerized Crochet, size 60, 11 balls.
J. & P. Coats Mercerized Crochet, size 60, 8 balls.
J. & P. Coats Big Ball Best Six Cord Mercerized Crocheted, size 60, 5 balls.
Milward's steel crochet hook No. 14.
A pair of ready made curtains.
Gauge: 8 sps make 1 inch; 8 rows make 1 inch.
Starting at bottom make a chain to measure about 4 inches, turn. 1st row: D c in 4th ch from hook, d c in each ch across until there are 52 d c in row, counting turning chain as 1 d c (17 bls). Cut off remaining chain. Ch 3, turn. 2nd row: Make bl over bl across. Ch 3, turn. 3rd row: 2 bls, ch 2, skip 2 d c, d c in next d c (1 sp made); make 12 more sps, 2 bls. Ch 3, turn. 4th row: 2 bls, 3 sps, 4 bls, 6 sps, 2 bls. Ch 3, turn. Hereafter follow chart from "A". Repeat pattern on chart for length desired. Break off. This is insertion for length of curtain. Make another insertion for width of curtain. Sew insertions together to form corner. Pin insertion in position as in illustration and sew to curtain. Cut away material of curtain underneath insertion, allowing for a very narrow hem. Make another curtain same as this.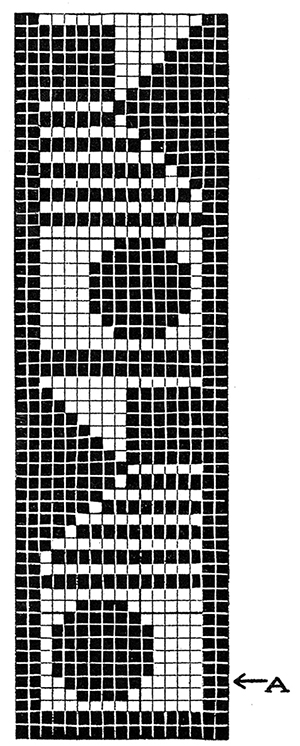 other patterns in leaflet: