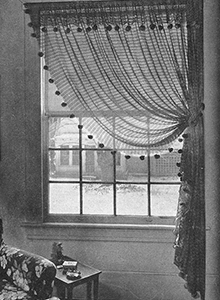 Materials: J. & P. Coats Knit-Cro-Sheen, 38 balls of Blue Jewel.
Milward's steel crochet hook No. 3.
When completed, curtain measures about 3 yds. wide and 2½ yds. long.
Gauge: 3 sps make 1 inch; 2 rows make 1 inch.
Starting at bottom, make a chain slightly over 4 yds. long. 1st row: D c in 8th ch from hook, * ch 2, skip 2 ch, d c in next ch. Repeat from * across. Ch 10 (to count as tr tr and ch-2), turn. 2nd row: Tr tr (thread over 4 times) in next d c, * ch 2, tr tr in next d c. Repeat from * across, making last tr tr in 3rd st of turning chain. Ch 5, turn. 3rd row: * D c in next tr tr, ch 2. Repeat from * across, making last d c in 3rd st of turning chain. Ch 10, turn. The last 2 rows constitute the pattern. Work in pattern until piece measures 2¾ yds., or length desired.
Tie-Back. Make a chain about 18 inches long. Work in curtain pattern for 5 rows, starting and ending with d c-sp rows.
Ball Trimming. Cut 2 circles of cardboard, each 1½ inches in diameter; then, at center of each cardboard circle, cut a hole ½ inch in diameter. Place the 2 cardboards together. Now cut 12 strands of thread, each about 4 yds. long, and wind around cardboard circle until hole in center is completely filled in. With a sharp pair of scissors, cut thread between cardboards. Using 2 strands of thread, tie securely at center, between cardboards. Remove cardboards and trim evenly all around. Make 63 more balls.
Fold over 9 inches of upper edge of curtain to form valance, and sew 2 inches down from top edge, to form casing for rod. Sew balls (6 inches apart) onto lower edge of valance and along lower edge of curtain. Sew balls (4 inches apart) down one side and onto tie-back. Block curtain on a curtain stretcher. Then hang and drape as in illustration.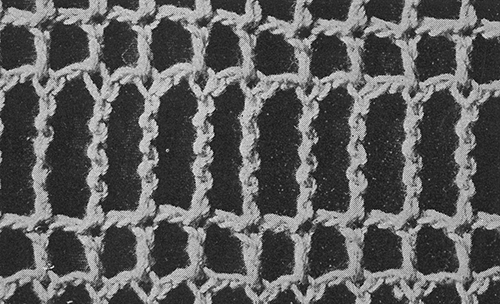 other patterns in leaflet: