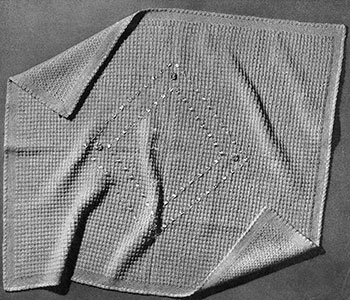 Approximately 27 x 31 Inches
MATERIALS: Chadwick's Red Heart Baby Wool, 10 balls (1 oz. balls) of any color.
Milward's Steel Crochet Hook No. 1 or 2.
3 yds. narrow ribbon.
Gauge: 5 loop-clusters or 15 s c make 2 inches; 6 rows (3 cluster rows and 3 s c-rows) make 1 inch.
Ch 190 to measure about 27 inches. 1st row: S c in 2nd ch from hook and in each ch across. Ch 2, turn. 2nd row: Insert hook in 1st s c; (pull ½-inch loop through, yarn over and insert hook in same s c) twice; pull loop through, yarn over and draw through all loops on hook—a loop-cluster. * Skip 2 s c, s c in next s c, ch 2, insert hook where last s c was made and complete a loop-cluster. Repeat from * across, ending with s c in last s c. Ch 1, turn. 3rd row: (Right Side) S c in 1st s c, * 2 s c in next ch-2, s c in next s c. Repeat from * across, ending with 2 s c in ch-2 of last cluster. Ch 2, turn. Repeat 2nd and 3rd rows alternately for 29 inches. With right side of work facing, work s c around 4 sides for 1 inch, increasing at corners to keep work flat. Work a row of loop-clusters all around. Fasten off. Run ribbon under and over loop-clusters to form a diamond at center of cover about 11 inches across between points. Tack ends of ribbon on wrong side. Run another row of ribbon outside this row, 1½ inches away. Cut remaining ribbon into 4 pieces. Join short ends of 1 piece; sew a running stitch along 1 long edge and draw close, forming a rosette. Sew rosettes between ribbon rows, at corners of diamonds.
other patterns in leaflet: