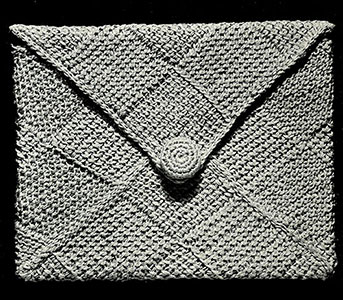 Materials: Clark's O.N.T. Knitting and Crochet Cotton, 2 balls color 40 French Rose or J. & P. Coats Crochet Cord, 6 balls. Afghan bone needle No. 5.
Ch 61, skip 1st st from hook, draw up a loop in each of the following 60 ch sts, retaining all loops on hook, then * thread over, draw through 2 loops, repeat from * until 1 loop remains. 2nd row: * Draw up a loop under the perpendicular bar of next st, repeat from * 11 times, then ** allow thread to hang in front of work, insert hook in next bar, bring thread under and around hook of needle, thread over and draw through, and repeat from ** 11 more times. Repeat from beginning of row till all sts have been worked, then thread over, draw through 2 loops, until only 1 loop remains on hook. 3rd to 12th rows incl: Same as 2nd. 13th to 24th rows incl: Work from ** to ** of 2nd row, then work from * to * of 2nd row, and continue alternating 12 plain afghan sts and 12 purl afghan sts to end of row. 25th to 60th rows incl: Work 2nd row 12 times, then 13th row 12 times, then finish off with 2nd row 12 times. Break thread. Work a piece in plain afghan stitch, 30 stitches to the row, for 30 rows. Break off.
Lay the plain afghan piece over the larger one, so that each corner coincides with the middle point of each of the 4 sides of the bigger piece. Fold over 3 points of the larger piece, so that they will meet at the middle of the smaller square. Join together the 2 seams starting where the points meet. The remaining corner of the large piece forms a flap, which is fastened with snap fasteners, and a button covered with crochet is sewed on the other side of the fastener to finish off.
other patterns in leaflet: