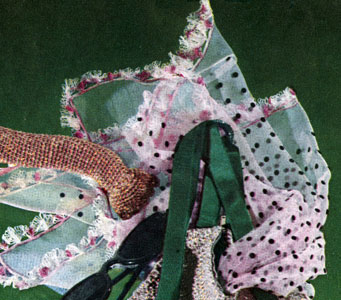 COATS & CLARK'S O.N.T. TATTING-CROCHET, Art. C.21, Size 70: 2 balls of No. 15 Shaded Pinks.
Milwards Steel Crochet Hook No. 14.
A hairpin lace staple, ½ inch wide.
A pink chiffon handkerchief, 23 inches square.
Starting at lightest part of Pink, make hairpin lace until darkest part has been reached, * do not turn staple, ch 3, sl st in loop at right of center, ch 1, dc in center of hairpin lace, (ch 1, tr in same place) 5 times; or as many times as length of dark pink will allow, leaving 1 inch of dark pink free to complete pattern, ch 1, dc in same place, ch 1, sl st in loop to left of center on hairpin lace (shell made), turn staple and con­tinue making hairpin lace until next dark pink part has been reached. Repeat from * until 96 shells have been made, ending with 3 hairpin lace loops on each side following last shell made. Break off.
HEADING … 1st row: Keeping the twist in all loops, attach thread through lightest loops at beginning of work, leaving 3 loops free pre­ceding dark pink shell, sc in same place, * ch 9, make an sc through next 3 loops and 3 loops following shell, ch 9, make an sc through lightest loops. Repeat from * across. Break off.
Sew in place on edge of handker­chief. Sew hairpin lace neatly to­gether at center.
other patterns in leaflet: