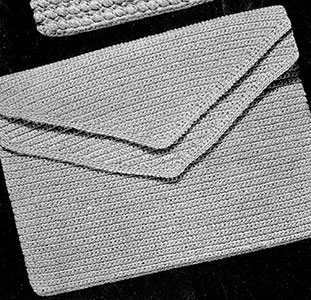 Materials: Clark's O.N.T. Knitting and Crochet Cotton, 3 balls of 68 Skipper Blue. Milward's steel crochet hook No. 5. 7-inch slide fastener.
Ch 77, turn. 1st row: S c in 2nd ch from hook, s c in each st of ch. Ch 1, turn. 2nd row: S c in each st across, ch 1, turn. Repeat 2nd row until work measures 12½ inches, turn and continue, making flap.
Flap: 1st to 25th rows incl: Sl st in 1st st, s c across to within last 2 sts, sl st in next to last st, turn. To finish flap, work 2 rows of s c around point. Make another piece the same.
If you wish to line purse, put in lining before finishing. To complete purse, double each piece separately up to 1½ inches from flap. Sew both sides together. Place the two pieces together so that one flap overlaps the other, and sew along sides and bottom. This makes three compartments in the purse. Attach slide fastener at top of center compartment.
other patterns in leaflet: