This free pattern originally published by Columbia-Minerva Corporation in Columbia-Minerva Afghan Book, Volume 722.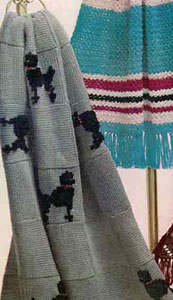 Approximate Size: 50" x 64"
Materials Required:
Columbia-Minerva Knitting Worsted (4 oz. skein)
Main Color 13 Skeins
Black for Poodles 1 Skein
Red for Collar of Poodles--1 Skein or a few strands
--OR--
Columbia-Minerva Nantuk 4 Ply Knitting Yarn
(Knitting Worsted Size--2 or 4 oz. skein)
Main Color 52 oz.
Black for Poodles 4 oz.
Red for Collar of Poodles--2 ozs. or a few strands
32 Rhinestones for Collar and Eyes
For Crocheted Afghan:
1 "Boye" Non-Inflammable Crochet Hook "I" --9 inch
Gauge: 3 1/2 Sts. to 1 inch: 4 Rows to 1 inch
1 "Hiawatha" Blunt End Tapestry Needle
Crocheted Afghan
Square: With Main Color, Ch. 26.
Row 1--Draw up a loop in each St. of Ch., leaving all loops on hook. Take off loops as follows: Y.O. hook, draw through 1 loop, *Y.O. hook, draw through 2 loops, repeat from * across row.
Row 2--Insert hook through center of next upright St. (below Ch), draw up a loop, repeat from * across row. Take off loops same as in Row 1.
Repeat Row 2 for Pattern until there are 28 rows from start, then slip St. across row, break yarn and fasten.
Make 63 Squares.
Block each Square to measure 7 1/4 inches.
To Embroider Squares: Following Chart for placement of Sts., work entire Poodle in Duplicate St. as Follows: (French Knots and Red Collar are made over the duplicate St. later) Thread Tapestry Needle with Black yarn and fasten on wrong side of work. *Insert needle in center of St. and draw yarn through to right side of work, then insert needle under the 2 strands of yarn of St. above and draw yarn through, then insert needle in center of same St. below and draw yarn through to wrong side of work, repeat from *. With double strand of Black, work French Knots over Sts. as indicated on Chart.
With single strand of Red work the 3 Sts. of Collar in Duplicate St. Sew 3 Rhinestones on Collar and 1 for eye. Embroider 8 Squares in this manner.
To Join Squares: Sew Squares together, 7 Squares in width and 9 Squares in length, alternating direction of Squares (all 4 corner Squares are upright) and placing embroidered Squares as illustrated or as desired. With Main Color work 1 row of S.C. around entire Afghan, working 3 S.C. in each corner to keep flat.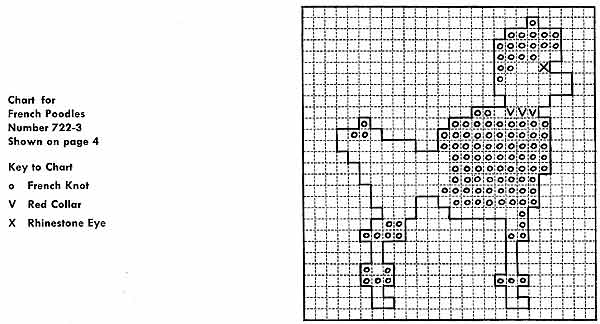 Other great patterns from Columbia-Minerva Afghan Book, Volume 722:
Crochet Patterns
3 Way Modern Mt Vernon Triangle Afghan
3 Way Modern Mt Vernon Floral Afghan
3 Way Modern Mt Vernon Square Afghan
Chinese Screen Afghan
Colony Afghan
Crocheted Zig Zag Afghan
French Poodles Crochet Afghan
Herringbone Afghan
Hi-Fi Companions Afghan
Jamaica Ginger Afghan
Lancaster Afghan
Roman Stripe Afghan
Star Shell Afghan
Knitting Patterns
Dutch Tile Afghan
French Poodles Knitted Afghan
Knitted Zig Zag Afghan
Tone-O-Rama Panel Afghan