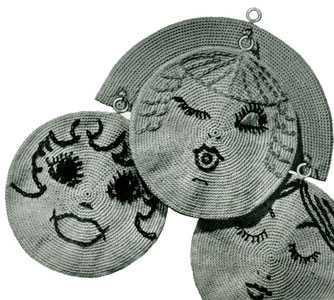 MATERIALS: J. & P. COATS KNIT-CRO-SHEEN, 2 balls of Ecru.
CLARK'S O.N.T. or J. & P. COATS SIX STRAND EMBROIDERY FLOSS, 2 skeins of Black, 1 skein of Yellow, 1 skein of Brown, 1 skein of Red, 1 skein of Blue.
Milward's Steel Crochet Hook No. 9.
4 bone rings.
3 screw hooks.
This amount is sufficient for 3 pot holders and a rack.
HOLDERS … Starting at center, ch 2. 1st rnd: 7 s c in 2nd ch from hook (do not join rnds). 2nd rnd: 2 s c in each s c around. 3rd rnd: * S c in next s c, 2 s c in next s c. Repeat from * around. 4th rnd: * S c in 2 s c, 2 s c in next s c. Repeat from * around. Continue thus, increasing 7 s c on each rnd until piece measures 6¼ inches in diameter. Work 2 rnds without increasing. Make 5 more pieces same as this.
FINISHING … Embroider features as in illustration with Six Strand, making eyes and hair of one with Black; the down-cast eyes and hair of second with Brown; hair with Yellow, eye with Blue; and lashes with Black on the third; lips and nostrils in Red. Tack pad to back. Sew back and face pieces together around edge. Sew bone ring to back at top.
RACK … Work as for Holders until piece measures 10 inches in diameter. Fasten off. Fold in half. Cut a circle of heavy cardboard 10 inches in diameter; then cut cardboard circle in half. Insert both pieces between folded piece of crochet and sew open edges together. Sew a bone ring to top of curve. Screw a hook at each straight end and one in center of curved edge. Hang up holders.
other patterns in leaflet: