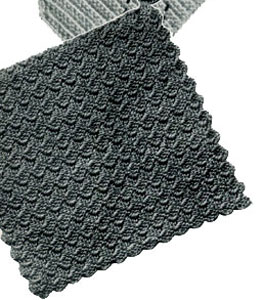 MATERIALS: J. & P. COATS KNIT-CRO-SHEEN, 1 ball of White or Ecru makes 2 potholders; 2 balls of any color make 3 potholders.
Milward's Steel Crochet Hook No. 7.
Make a loose chain about 8 inches long. 1st row: 3 d c in 4th ch from hook, * skip 3 ch, s c in next ch, ch 3, 3 d c in same ch as s c. Repeat from * until row meas­ures 6½ inches. Ch 3, turn. 2nd row: * S c in next ch-3 of shell, ch 3, 3 d c in same ch-3. Repeat from * across, ending with 3 d c under turning ch-3. Ch 3, turn. Repeat 2nd row until piece is square. Fasten off. Make another piece same as this. Place padding be­tween crocheted pieces and sew through both thick­nesses around edge.
RING … Ch 15, join with sl st to form a ring. Work s c closely in ring. Fasten off. Sew ring to one corner.
other patterns in leaflet: