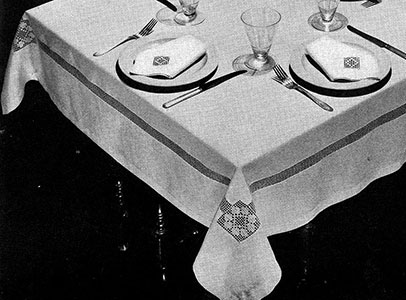 Materials: Clark's O.N.T. (4 balls) or J. & P. Coats (3 balls) Mercerized Crochet, size 30, White.
Milward's steel crochet hook No. 11.
2 yds. of white linen, 54 inches wide.
This material is sufficient for a luncheon cloth 52 inches square and 4 napkins, each about 11 inches square. Before starting work, cut linen 54 inches square for cloth, and 4 napkins each 12 inches square. Make a narrow hem all around each napkin and a 1-inch hem around cloth.
Cloth. Starting at one square of corner, ch 54, turn. 1st row: D c in 6th ch from hook, * ch 2, skip 2 ch, d c in next ch. Repeat from * across (17 sps). Ch 5, turn. 2nd row: Work 5 sps, 2 bls, 3 sps, 2 bls, 5 sps. Ch 5, turn. Hereafter follow chart, starting from 3rd row (17 rows in square). Break off. Make 4 squares in all. Place a square in each corner of cloth 5 inches in from edge on right side and sew in place.
To make side strips, ch 24, turn and make 7 sps on chain. Ch 5, turn. Work sp over sp back and forth until strip measures same length as distance between 2 squares. Break off. Make 4 strips in all and sew in position over cloth. Cut away linen underneath laces, allowing ¾ inch to make a hem.
Napkin. Ch 30 and work 9 sps. Then continue, following chart. Place over napkin and finish off underneath as for cloth. Fasten and break off.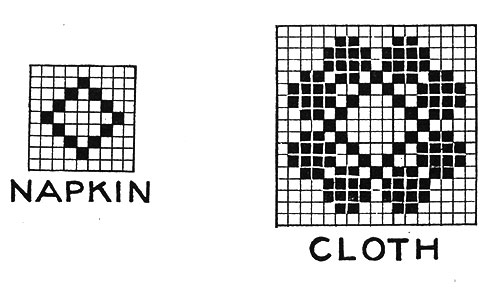 other patterns in leaflet: