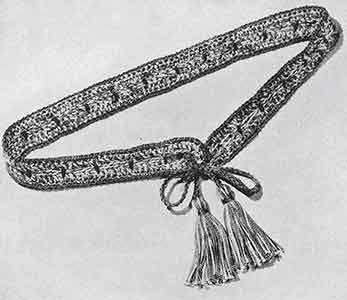 Materials: Clark's O.N.T. or J. & P. Coats Pearl Cotton, size 5, 1 ball each of Lt. Red, Hunter's Green, Ecru and Dk. Brown.
Milward's steel crochet hook No. 2 or 3.
Belt is worked lengthwise, then doubled and tacked together.
With 1 strand each of Lt. Red, Hunter's Green and Ecru, make a chain twice the desired length of belt. Turn, and work d c in 4th ch from hook and d c in each ch across. Break off. Double the belt so that top edges of d c's are adjacent to one another. With needle and double thread of Dk. Brown, join the 2 edges by making 2 over-and-over stitches, from both edges, after every 6th d c, passing the thread on wrong side of work from time to time, instead of breaking it.
Cord. With 2 strands of Dk. Brown, make a chain about 15 inches long, turn and make a sl st in each ch across. Break off.
Tassels. Cut a cardboard 3 inches wide and 6 inches long. Cut a piece of Dk. Brown thread 12 inches long, and place it across the length of cardboard. Then wind 1 strand of each color around the width of cardboard about 12 times. Break off. Pick up both ends of the 12-inch long Dk. Brown thread, and tie securely. Slip tassel off cardboard and wind single strand of Dk. Brown several times around near top, and tie securely. Break off. Trim ends evenly. Lace cord through end loops of belt and sew a tassel to each end.
other patterns in leaflet:
Bag Pattern
Belt Pattern, No. 2262
Beret Pattern
Handbag Pattern
Hair Band Pattern
Baby Sacque Pattern
Luncheon Set Pattern
Tie Backs Pattern, No. 944
Tie Backs Pattern, No. 945
Towel Edging Pattern, No. 8187
Collar Pattern, No. 2253
Belt Pattern, No. 2257
Knitting Bag Pattern
Coat Hanger Pattern
Tumbler Muff Pattern, No. 943
Stem Glass Muff Pattern, No. 942
Tumbler Muff Pattern, No. 947
Stem Glass Muff Pattern, No. 941
Towel Edging Pattern, No. 8189
Towel Edging Pattern, No. 8188
Towel Edging Pattern, No. 8190
Belt Pattern, No. 2252
Kerchief Pattern, No. 2238
Kerchief Pattern, No. 8192
Boutonniere Pattern, No. 435
Boutonniere Pattern, No. 439
Hot Plate Mat Pattern
Pot Holder Pattern
Collar Pattern, No. 2260
Handkerchief Edging Pattern, No. 8191
Handkerchief Edging Pattern, No. 8193
Handkerchief Edging Pattern, No. 8194
Chair Set Pattern
Boudoir Pillow Pattern
Tie Backs Pattern, No. 946
Bath Mat Pattern
Wash Cloths Pattern
Seat Cover Pattern
Women's Gloves Pattern
Men's Gloves Pattern
Polo Shirt Pattern
Knitting Bag Pattern
Baby Bib Pattern
Pot Holder Pattern