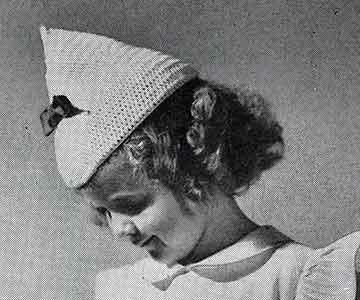 Headsize 20
Materials: J. & P. Coats Knit-Cro-Sheen, 1 ball.
Milward's steel crochet hook No. 8.
¼ yard ribbon, 1 inch wide.
Gauge: 6 clusters make 1 inch; 5 rows make 1 inch.
Starting at lower edge, ch 103 (to measure about 10½ inches), turn. 1st row: * Thread over hook, insert hook in 5th ch from hook, pull thread through. Repeat from * until there are 7 loops on hook, thread over hook and draw through all loops on hook (1 cluster made). Ch 1, ** skip 1 ch, cluster in next ch, ch 1. Repeat from ** across (50 clusters). Ch 3, turn. 2nd row: * Cluster under ch-1, ch 1, cluster under next ch-1. Repeat from * across, ending row with cluster between last cluster and turning ch-3. Ch 3, turn. Hereafter, repeat 2nd row until piece measures 2 inches. Then decrease 1 cluster at both ends of each row until 1 cluster remains. Break off. Make another piece same as this. Sew two pieces together. Work a rnd of sl st around bottom. With ribbon, make a tailored bow and sew on as in illus­tration.
other patterns in leaflet:
Bag Pattern
Belt Pattern, No. 2262
Beret Pattern
Handbag Pattern
Hair Band Pattern
Baby Sacque Pattern
Luncheon Set Pattern
Tie Backs Pattern, No. 944
Tie Backs Pattern, No. 945
Towel Edging Pattern, No. 8187
Collar Pattern, No. 2253
Belt Pattern, No. 2257
Knitting Bag Pattern
Coat Hanger Pattern
Tumbler Muff Pattern, No. 943
Stem Glass Muff Pattern, No. 942
Tumbler Muff Pattern, No. 947
Stem Glass Muff Pattern, No. 941
Towel Edging Pattern, No. 8189
Towel Edging Pattern, No. 8188
Towel Edging Pattern, No. 8190
Belt Pattern, No. 2252
Kerchief Pattern, No. 2238
Kerchief Pattern, No. 8192
Boutonniere Pattern, No. 435
Boutonniere Pattern, No. 439
Hot Plate Mat Pattern
Pot Holder Pattern
Collar Pattern, No. 2260
Handkerchief Edging Pattern, No. 8191
Handkerchief Edging Pattern, No. 8193
Handkerchief Edging Pattern, No. 8194
Chair Set Pattern
Boudoir Pillow Pattern
Tie Backs Pattern, No. 946
Bath Mat Pattern
Wash Cloths Pattern
Seat Cover Pattern
Women's Gloves Pattern
Men's Gloves Pattern
Polo Shirt Pattern
Knitting Bag Pattern
Baby Bib Pattern
Pot Holder Pattern