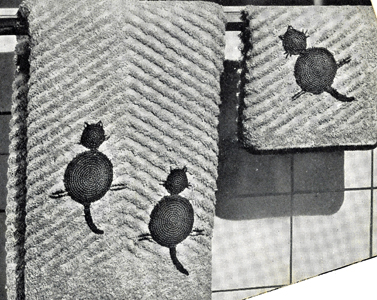 MATERIALS:
CLARK'S O.N.T. "BRILLIANT," 2 balls.
Milward's Steel Crochet Hook No. 9 or 10.
A towel and a face cloth.
CAT—Head … Starting at center, ch 3. 1st rnd: 6 s c in 2nd ch from, hook. Do not join rnds. 2nd rnd: 2 s c in each s c around. 3rd rnd: * S c in next s c, inc. in next s c by making 2 s c in 1 st. Repeat from * around. Continue to make s c around, increasing where necessary to keep work flat, until circle measures 1 inch in diameter. Sl st in next 2 s c; fasten off.
Body … Work as for head, but make circle 2 inches in diameter. Fasten off.
Tail … Ch 21. S c in 2nd ch from hook, half d c in next 4 ch, d c in next 15 ch. Fasten off.
With matching sewing thread, sew pieces onto corner of face cloth as in illustration. With double strand of "Brilliant," embroider whiskers and ears in straight stitch, and fence in outline stitch. Make 2 more cats. Sew onto towel, and embroider as in illustration.
EDGING—FACE CLOTH … Keeping work flat, make s c closely all around edge of face cloth (if ready-made face cloth has stitching along edges, work the s c into the stitching). Join. Ch 1, turn. 2nd and 3rd rnds: S c in each s c, increasing at corners as necessary to keep work flat. Join. Fasten off after 3rd rnd.
TOWEL…Work 3 rows of s c along lower edge.
other patterns in leaflet: