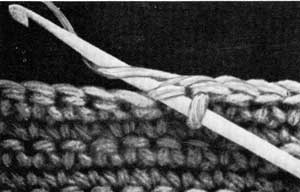 Crocheting is easy when you follow the step by step instructions and crochet along with the video tutorials. Learn, one by one, the crochet stitches used in beginner's crochet patterns. Once you know them all, no crochet pattern will be too much for you.
Slip Knot: The slip knot is always the beginning step of crochet, in order to put a loop on your crochet hook.
Chain Stitch: The chain stitch provides a base from which to begin your crochet pattern.
Slip Stitch: To form a chain into a ring, the ends of the chain are joined with a slip stitch. The slip stitch can also be used to "edge" a row without adding height.
Single Crochet: This is the most basic of the crochet pattern stitches.
Double Crochet: The double crochet stitch is also a very common stitch; it is twice the height of the single crochet.
Half Double Crochet: You will eliminate one step of the double crochet to make this stitch.
Short Double Crochet: Another name for half double crochet.
Triple Crochet: The triple crochet results in a looser pattern because it is taller. Also see Double Triple Crochet & Triple Triple Crochet.
Soon you'll be able to create your own original masterpieces since most of these crochet stitches are adaptable to any article - sweaters for men, women and children, dresses, bedspreads or magnificent afghans. Easy crochet for beginners!
Crochet Stitches
Following are various crochet stitches to learn that are often found in the crochet patterns you want to try.
Afghan Stitch: Also known as Tunisian Stitch.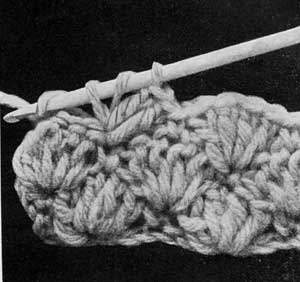 Bean Stitch
Brick Stitch
Crazy Stitch
Cross Treble Crochet Stitch
Knot Stitch
Lacet Stitch
Lattice Stitch
Newport Stitch
Overshot Double Crochet
Picot Stitch
Pineapple Stitch
Puff Stitch
Raspberry Stitch
Shell Stitch
Slanting Shell Stitch
Square Mesh Stitch
Star Stitch
Once you have learned and mastered a variety of crochet stitches, you can also become really creative and design your own crochet projects.
How to Crochet
Crocheted Flower Patterns
Crocheted Heart Patterns
Crocheted Pillow Pattern
How to Crochet Soap Scrubbers
How to Crochet a Dishcloth
How to Crochet a Hat
How to Crochet a Scarf
How to Crochet Amigurumi