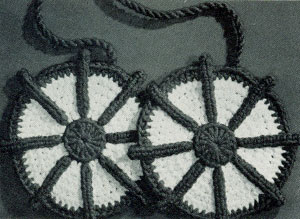 MATERIALS:
CLARK'S O.N.T. COTTON RUG YARN, 1 ball each of White and any color.
Crochet Hook, size G.
POT HOLDER . . . Starting at center with Color, ch 4. 1st rnd: 15 dc in 4th ch from hook. Join with sl st in top st of starting chain. Fasten off. Attach White in same place as sl st. 2nd rnd: Ch 2, h dc in same place as sl st, * 2 h dc in next st (an inc is made), h dc in next st. Repeat from * around. Join with sl st in 1st h dc. Continue thus, increasing as necessary to keep work flat until piece measures about 5 ¾ inches in diameter. Join and fasten off White. Attach color and work 1 more h dc rnd as before. Join and fasten off.
CENTER . . . With Color, ch 4 and work 1st rnd of Pot holder. Fasten off.
SPOKE (Make 8) . . . With Color make a chain 6 inches long. Work sc in 2nd ch from hook and in each ch across. Fasten off. Divide Pot holder into 8 equal parts. Have one end of each Spoke at outer edge of colored center and have Spoke extend out beyond edge of Pot holder. Fold spoke to bring other end to corresponding position on other side. Sew Spokes in place, whipping together the edges of each spoke-extension. Sew Center in center of piece. Make another pot holder same as this.
CORD . . . Cut 4 strands of Color each 1 ½ yards long. Twist tightly, then double the twisted strands and give them a second twist in the opposite direction. Knot loose ends and trim. Sew a pot holder to each end of cord.
Other great patterns from Pot Holders, Book 196:
Crochet Patterns
Flower Pot Pot Holder
Ma, Pa & Baby Pot Holder
Teacup Pot Holder
Wall Pocket Pot Holder
Butterfly Pot Holder
Fruit Slice Pot Holder
Scallop Pot Holder
Double Wheels Pot Holder
Cat Pot Holder
Tulip Pot Holder
Bell Pot Holder
Hot Spot Pot Holder
Pinwheel Pot Holder
Salt & Pepper Pot Holder
Checkerboard Pot Holder
Horseshoe Pot Holder
Strawberry Pot Holder
Water Pitcher Pot Holder
Oven Mitt I Pot Holder
Oven Mitt II Pot Holder
Star Pot Holder
Hexagon Pot Holder
Diamond Pot Holder
Double Diamond Pot Holder
Square Pot Holder
Striped Square I Pot Holder
Striped Square II Pot Holder
Circle Pot Holder
Striped Circle Pot Holder
Variegated Circle Pot Holder