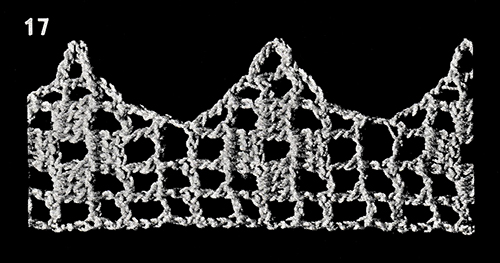 Remember that you need a crochet thread of a size, texture, lustre, and color or shaded color right for the purpose. The thread should be of a quality to wear so that it will not break and make your work valueless. The color must be Boilfast so that innumerable washings will not fade it. These necessities to good work are found in both Clark's O.N.T. and J. & P. Coats Threads.
Mercerized Crochet is made in sizes 1 to 100 in white, and 1 to 70 in ecru; Boilfast colors in sizes 30 and 50. Size 1 is the coarsest, 100 the finest.
Rows of this edging are worked shortways. Ch 11, d c in 5th ch from hook, * ch 2, skip 2, d c in next, repeat from *, 3 sps in row. Ch 5, turn. Make a 2d row of 3 sps, at end ch 2, 1 tr in same st with last d c, thus adding 1 sp, ch 5, turn. 3d row: D c in top of tr, thus adding 1 sp. Ch 2, d c in next d c, 2 d c in sp, d c in next d c; 2 sps to end, ch 5, turn. 4th row: 1 sp, 1 bl, 1 sp, 1 bl, 1 sp, add 1 sp as in 2d row. 5th row: Sl st to 1st d c, ch 3, d c in next d c and continue as for 3d row. 6th row: 3 sps, after last d c make 1 tr in final d c of preceding row, omitting ch between. Repeat from beginning of 1st row.
other patterns in leaflet: