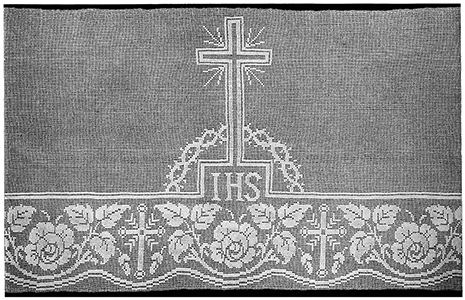 Lace measures 22 inches deep. One pattern measures 15¼ inches wide, requires about 1390 yds. of thread.
MATERIALS:
Choose one of the following threads in White, size 70:
Clark's O.N.T. Mercerized Crochet.
J. & P. Coats Mercerized Crochet.
Milward's steel crochet hook No. 13.
GAUGE: 8 sps make 1 inch; 8 rows make 1 inch.
Starting at lower edge, make a chain (24 chain sts to 1 inch) to measure ⅓ longer than desired length. 1st row: D c in 8th ch from hook, * ch 2, skip 2 ch, d c in next ch. Repeat from * for desired length (number of spaces should be divisible by 122). Cut off remaining chain. Ch 3, turn. 2nd row: D c in each of next 2 ch, d c in next d c (1 bl); make 4 more bls, ch 2, d c in next d c (sp over sp); make 50 more sps, 11 bls, 51 sps, 4 bls (this completes one pattern). Repeat pattern the necessary number of times. Ch 5, turn. Hereafter, starting with 3rd row, follow chart until the rose and leaf design is completed, always repeating the design the necessary number of times. On next 2 rows, begin the I H S design above center rose, working spaces along remainder of each row. Ch 3, turn. On next row, work bls to within center design and follow chart across. Continue to follow chart, working Cross design in center only.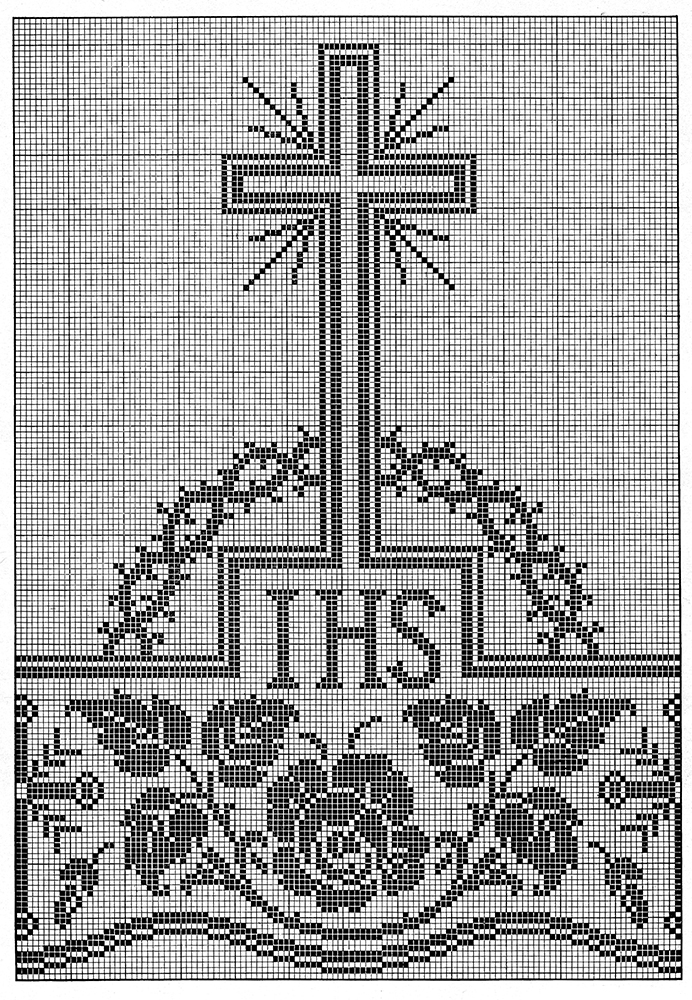 other patterns in leaflet: