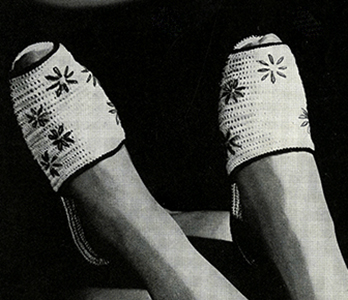 Materials Required—
AMERICAN THREAD COMPANY "STAR" PEARL COTTON, SIZE 5
4 60-yd. Balls White or any Color desired.
2 60-yd. Balls Black or any contrasting Color.
"STAR" SIX STRAND MERCERIZED EMBROIDERY COTTON
1 Skein each of Yellow, Medium Blue, Turkey Red and Pink.
Steel Crochet Hook No. 5.
SOLES. Work according to directions given for soles No. 3102, working inner section of sole in White and under section in Black. Insert cardboard and with Black sew together.
VAMP. With White, ch 30, d c in 4th st from hook, 1 d c in each remaining ch, ch 3, turn.
2nd Row—Work 1 d c in each d c, ch 3, turn.
3rd Row—Work 3 d c in 1st and last d c, working 1 d c in each remaining st, ch 3, turn.
Repeat last 2 rows 8 times, then work 1 row even, break thread. With Black, work a row of s c around edge of vamp. Embroider vamp with lazy daizy flowers scattering flowers as desired. With Yellow, work centers of flowers in satin st.
other patterns in leaflet: