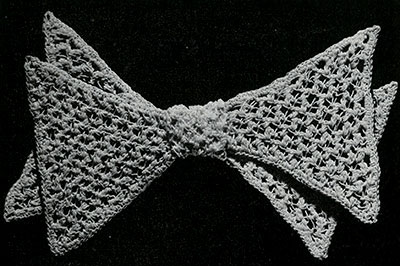 Materials:
Clark's O.N.T. Mercerized Crochet, size 10, White, 1 ball.
Milward's steel crochet hook No. 5.
Bow is made of four triangles, and a strip for knot. Triangles are worked in a knot stitch variation.
1st row: Make a ch of 12 knot sts. (To make a knot st, draw loop on hook out ¼ inch, draw thread through to make a ch st of it. Put hook between loop and single thread of this ch and make an s c.) After 12th knot st, draw out loop ¼ inch, and turn. 2nd row: Skip 1st knot st. * Thread over hook (as for making a d c) insert hook under 2 threads of loop of next knot st, draw thread through, thread over again, insert hook under same 2 threads, draw thread through (5 loops now on hook). Draw thread through all 5 loops at once, insert hook between same 2 threads of loop and sl st to loop on hook. This closes the knot. Draw out the loop on hook and repeat from * across. After the last knot, draw out loop and turn. Repeat this row until work gradually comes to a point. (Each row has one group less). Make 3 more triangles. Work a close row of s c around each.
Strip for knot: Make a ch of 10 knot sts and work as for triangles, adding a group each row to keep piece straight at ends. Work 5 or 6 rows.
Join points of triangles to make bow as in illus­tration, and sew strip around center to finish bow.
other patterns in leaflet: