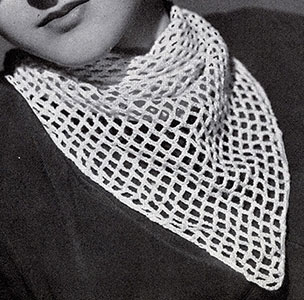 Materials:
Clark's O.N.T. Knit-Crochet, 1 ball of White and 2 balls of color 26 Nile Green.
Milward's steel crochet hook No. 2.
With Nile Green, ch 266. 1st row: S c in 10th ch from hook. * Ch 5, skip 3 sts of foundation ch, s c in next ch. Repeat from * across. 2nd row: Attach White in 3rd st of last ch-5. * Ch 5, s c in 3rd st of next loop and repeat from * across. 3rd row: Pick up Nile Green at end of 1st row and sl st along 3 sts of last ch-5 of Nile Green and along 3 sts of 1st ch-5 of White. Then repeat 2nd row from *. Work rest of scarf same as 3rd row, and alternate rows of White and Nile Green. Each row is 1 mesh shorter than the previous row, and the work is gradually brought to a point of 1 mesh. Break thread and finish off. Work a row of sl sts with Nile Green into founda­tion ch. The scarf may be finished with a close row of s c.
other patterns in leaflet: