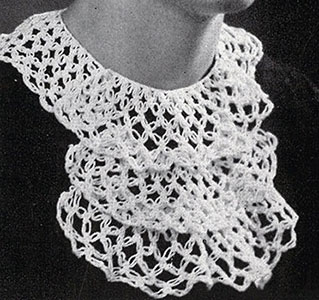 Materials:
Clark's O.N.T. Knitting and Crochet Cotton, White, 1 ball.
Milward's steel crochet hook No. 6.
Ch 114, turn. 1st row: * Make a knot st (draw loop on hook out ¼ inch, draw thread through, making a ch st of it. Put hook between loop and single thread of this ch and make an s c). Make another knot st, skip 2 sts of ch, s c in next. Repeat from * to end of row. 2nd to 6th rows incl: * Make 2 knot sts, s c in the s c between the 2 knot sts of previous row, repeat from * to end of row. Fasten off.
Jabot: Ch 42 and work 6 rows of knot sts as for collar. Make 2 more pieces the same, starting with ch 48 for one, and ch 54 for the other. The three pieces are joined underneath with ch's as follows: Attach thread to one corner of narrow piece, ch 12, join to corresponding corner of middle piece of jabot, ch 12, join to lower piece and fasten off. Attach thread at center of top piece and work as before. Fasten off. Attach thread at other corner and work as before. Join one side of jabot to collar.
other patterns in leaflet: