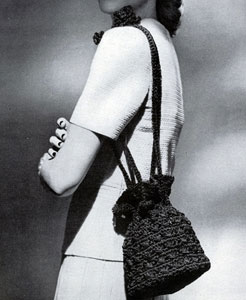 Jack Frost Soutache—3 Gross Yds.
Interchangeable with Cordet, Ribbon Braid or Kordette
Size 4 White Crochet Hook
Ch 6, join with a sl st to form a ring. Row 1—Work 6 s c in ring, join. Row 2—Work 2 s c in each st (12 sts), join. Row 3—Work 2 s c in every other st (18 sts), join. Continue increasing as de­scribed above, having 1 more st between each increase, until circle measures 6 in. in diameter. Ch 1, work in pattern as follows: Row 1—Work 1 row of s c around entire circle without increasing; sl st in last st. Row 2—Ch 3, * skip 1 st, work 1 d c in each of next 3 sts, work 1 d c in the skipped st; repeat from * across row. Join with a sl st. Repeat these 2 rows 11 times.
DRAWSTRING—Make a ch 1 yd. long. Work 1 s c in every st. Make 2 pieces. Pull through 3rd row of holes from top.
Join Soutache to ends of drawstring, * ch 15, sl st into st where joined; repeat from * 10 times.
other patterns in leaflet: