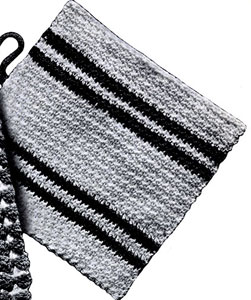 MATERIALS:
1 Clark's O.N.T. or J. & P. Coats Pearl Cotton, size 5, 2 balls of color A and 1 ball of color B.
Milward's steel crochet hook No. 7.
Starting at bottom, with color A ch 56 to measure about 6½ inches. 1st row: S c in 3rd ch from hook, * d c in next ch, s c in next ch. Repeat from * across, ending with d c in last ch. Ch 1, turn. 2nd row: * S c in d c, d c in s c. Repeat from * across, ending with d c in last s c. Ch 1, turn. Repeat 2nd row until piece measures 1 inch. Drop color A, attach color B and work in pattern for 2 more rows. Now work 2 rows of color A, and 2 rows of color B. Then work in pattern with color A until piece measures 4¼ inches. Work to correspond with opposite end. Fasten off. Make an­other piece like this.
With color B ch 40; make s c in 2nd ch from hook and in each ch across. Fasten off. Sew ends to wrong side of one piece, at center. Tack pad (see patternbook page) between crocheted pieces, and sew edges together.
other patterns in leaflet: