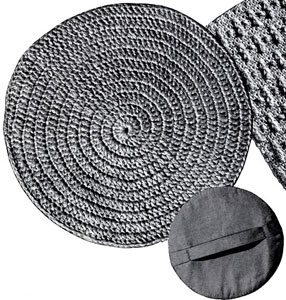 MATERIALS:
Clark's O.N.T. or J. & P. Coats Pearl Cotton, size 5, 1 ball of any color.
Milward's steel crochet hook No. 4.
A piece of gingham or cotton fabric.
Divide thread into 2 equal balls. Use thread double. Ch 3; in 2nd ch from hook make s c, half d c, 14 d c. D c in s c, 2 d c in half d c. Hereafter make d c around, making necessary increases to keep work flat, until circle measures approximately 6½ inches in diameter. Make half d c in next 2 sts, s c in next 2 sts, sl st in next st. Fasten off.
Tack pad in place (see patternbook page). Cut fabric slightly larger than crocheted piece, to allow for hem. Cut a strip of fabric 1¾ x 7¼ inches. Fold strip in half lengthwise, wrong side out, and seam raw edges; then turn to right side. Sew fabric circle to back of crocheted circle, having fabric strip across center back and turn­ing short ends under between fabric and crochet.
other patterns in leaflet: