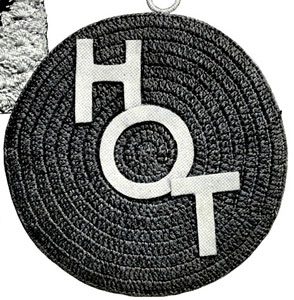 MATERIALS:
J. & P. Coats Knit-Cro-Sheen, 1 ball of any color desired.
Milward's steel crochet hook No. 6 or 7.
A bone ring.
Use thread double. 1st rnd: Starting at center, ch 3, 7 d c in 3rd ch from hook. Join with sl st to 3rd st of ch-3. 2nd rnd: Ch 3, d c in same place as sl st, 2 d c in each d c around. Join. 3rd rnd: Ch 3, * 2 d c in next d c (increase), d c in next d c. Repeat from * around. Join. Now make d c in d c, increasing where necessary to keep work flat, until piece measures 6½ inches in diameter. Fasten off. Make another piece like this.
Cut letters "HOT" from contrasting felt or any material desired, and sew on as in illustration. Insert pad (see patternbook page). Sew pieces together neatly. Sew bone ring at top.
other patterns in leaflet: