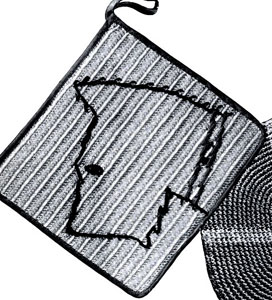 MATERIALS:
J. & P. Coats Knit-Cro-Sheen, 1 ball of any color desired.
Clark's O.N.T. or J. & P. Coats Six Strand Embroidery Floss, 1 skein each of Black and Red.
Milward's steel crochet hook No. 7 or 8.
J. & P. Coats Bias Trim, 1 yd.
Starting at bottom, ch 73 to measure 6¾ inches. 1st row: D c in 4th ch from hook and in each ch across (71 d c, counting turning ch as 1 d c). Ch 3, turn. 2nd row: D c in each d c across, d c in 3rd st of turn­ing ch. Ch 3, turn. Repeat 2nd row until piece is per­fectly square. Fasten off. Make another piece like this.
Embroidery … With 2 full strands of Black Six Strand, embroider Scottie as in illustration, using feather stitch and outline stitch. Embroider collar with Red in outline stitch.
Insert pad (see patternbook page). To join pieces, bind edges with bias trim, allowing for a loop at upper corner.
other patterns in leaflet: