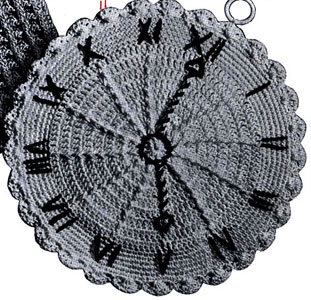 MATERIALS:
Clark's O.N.T. Mercerized Gimp, 2 tubes of any color.
Clark's O.N.T. or J. & P. Coats Six Strand Embroidery Floss, 1 skein of a contrasting color.
Milward's steel crochet hook No. 7.
A bone ring.
1st rnd: Ch 4, 11 d c in 4th ch from hook. Join. 2nd rnd: Ch 3 (to count as d c), d c under ch on 1st rnd (a raised st); * d c in next d c, d c under bar of same st where last d c was made. Repeat from * around (12 d c and 12 raised sts). Join. Make a raised st over each raised st and d c over each d c, increasing 1 d c in each d c-section, until piece measures 5½ inches in diameter. Now make s c in each st around, increasing as necessary to keep work flat, until piece measures 7 inches in diameter. Fasten off.
Embroidery … With 2 full strands of Six Strand, embroider Roman numerals on s c-section. Embroider a circle at center; with over-and-over stitches embroider over any 2 lines of raised sts, making one slightly shorter than the other, and ending each in a triangle (see illustration).
Make another piece like this, omitting embroidery. Tack pad (see patternbook page) between pieces.
Scalloped Edge … Attach thread at any s c and work through both thicknesses. * Skip 2 s c; in next s c make 5 d c with ch-1 between, skip 2 s c, s c in next s c. Repeat from *. Fasten off. Sew ring to scallop.
other patterns in leaflet: