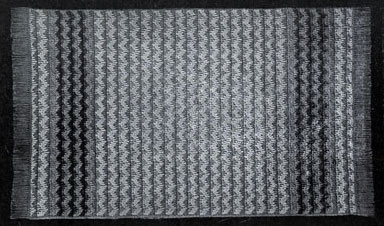 Novel stripes in an interesting stitch of Enterprise Yarn that's so simple to do! In contrasting colors or shaded tones of the same color, some striking effects can be made. Work to any de­sired size — from the smallest hot pot holders to largest rugs for Kitchen, Bed, Bath, or the Living Room. Use it for chair seats and table mats too, to complete a "kitchen ensemble," that will bring comment from all who see it.
To figure size for mats, pot holders or a rug;—a pattern row, 24" long has 18 motifs (points).
A 6" row—4 motifs (each point is about 1½" long). Eight pattern rows = approximately 5 inches.
RUG:—Complete instructions for a rug approximately 24" x 40" are given below.
Materials:—
Enterprise Yarn

4 Balls
Col. A

5 Balls
Col. B

1 Ball
Col. C

1 Ball
Col. D

1 Ball
Col. E

1 Ball
Col. F

Green (the original)

250

274

273

275

275

273

Blue

250

284

280

286

286

280

Brown

250

253

251

254

254

251

Orchid

250

219

218

221

221

218

Rose

250

296

292

298

298

292

Terra Cotta

270

271

284

282

286

282

Black

299

290

260

264

280

284
2 balls will be needed, when shown twice in any color combination.
With Color A, ch 112 and work 111 sc on ch. Ch 1, turn and work 2 more rows of sc. Drop Color A, but do not cut.
PATTERN ROW:—Draw Color B thru loop for turning l-ch, turn, 2 sc, letting ends of 2 colors hang at end of row. *A long sc over next sc, inserting hook at base of sc into row below, a long sc over next sc, inserting hook 2 rows below, a long sc over next sc, inserting hook 3 rows below, a long sc over next sc 2 rows below, a long sc over next sc, 1 row below, 1 sc in next sc. * Repeat from * to * 17 times. 1 sc in end sc. Keep the strands of each long sc untwisted—to form a perfect "V",— and pull them down tight. Ch 1, turn and make 3 rows of sc.
Drop Color B, pull up Color A thru loop, turn and make a Pattern Row, then a Pattern Row each in Colors B, C, and D, F, E, F, D, and C—these last 7 Pattern Rows form a contrasting stripe. Then alternate Colors B and A for 35 Pattern Rows. Make 7 Pattern Rows of another colored stripe, same as other end, then a Pattern Row each in Colors B, A and B. Complete rug with the first (long sc) row of a Pattern Row in Color A. Fasten off. With Color B, make 1 row of sc around entire rug.
FRINGE: Using Color B, wrap single thread around a card­board 2 inches wide, then cut yarn along one edge of card­board with sharp scissors or razor blade, thus making each thread 4 inches long. Working on right side of rug—place two ends of one thread together evenly, pull looped center through one st on end of rug, bring loose ends through loop and pull taut.

For a larger rug, add more sts to starting ch, in multiples of 6, and work more Pattern Rows in center section of rug. Steam and press thru a damp cloth.
THE HOT POT HOLDER
For a Hot Pot Holder ap­proximately 5 to 6 inches square — with Color A chain 26, 25 sc on ch, ch 1, turn and work 2 more rows of sc. Drop this color, and make 8 pattern rows to same length—follow in­structions for the rug. Change colors as wanted for the color combination desired. After making 8 rows, make a row of sc around entire holder.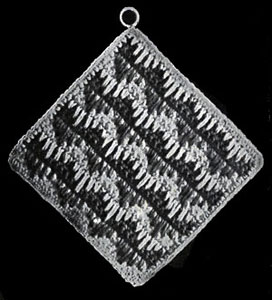 other patterns in leaflet: