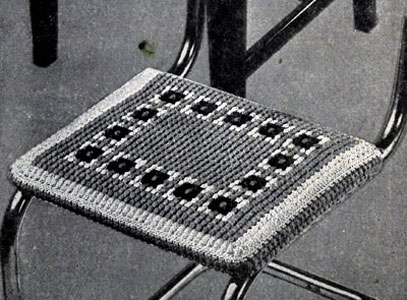 Puff Stitch is used for this Grecian Block Cover • follow the picture for puffs in three shades, for the color scheme to be matched. The center panel is 25 puffs wide—about 13" • the two puff row border adds ¾" to each side (14½" overall).
To start ch 72, 71 sc on ch—and follow with puffs as in the Alphabet Nursery Rug.
The border and side band is same as on Trailing Vine Chair Seat Cover • add rows of border for larger size • the original used 3 balls (lt blue) for background; 2 balls (ivory) for design and border; a ball of dk blue for center of blocks.
other patterns in leaflet: