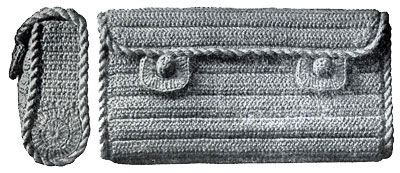 Whether in a single color as pictured or in varied stripes, this is a bag that will outwear many of the ready-to-use type. If wanted in colors to match the costume, any of the bright shades of Enterprise Yarn may be used.
MATERIALS: Three balls will make the bag in a single color—one ball each of 3 colors will do it with stripes across the bag in mixed shades. A piece of buckram will be needed for stiffening; and lining material. If buckram is not available a satisfactory substitute can be made at home —a piece of fairly heavy cloth, duck, muslin or flour sacking will do. Make slightly larger than needed—dip in thick hot starch, and when dry apply one or two coats shellac on both sides—trim to size. Steel Crochet Hook No. 1.
Ch 65, 64 sc on ch. * Ch 3, turn, 1 dc in 1 loop of each st (64 dc). Ch 1, turn, 1 dc in remaining loop of each st, sl st in 3-ch. Ch 2, turn, (1 dc in 1 loop of each dc on front row) across to end. Skip l-ch at end of previous row, ch 1, turn, 1 dc thru back loop of last dc and down at back thru a single loop of first dc in back row, (dc thru next dc on both front and back rows, fastening them together) repeated to end. Repeat from * for 15 ribs. Ch 3, turn, (dc in last 3 dc) worked off together into a Cluster, dc across to fourth from end, (dc in 3 end dc) made into a Cluster. Ch 1, turn, and repeat this row in remaining loop of each st, sl st in first Cluster. Ch-2, turn, and repeat this same row across, then complete rib with sc instead of dc. Work sc around entire piece, putting 5 sc across end of each rib. Fasten off.
GUSSET: Ch 4, 15 dc in first st, sl st in 3-ch. Ch 3, in back loops, 2 dc in each dc. Ch 3, turn, in both loops, dc in 2 dc, then 1 hdc, 2 sc, 1 hdc and 2 dc. (Ch 1, turn, 8 sc) 17 times. Fasten off. Make 2.
Pin work right-side-down in true shape, rub back with a cloth dipped in hot starch, and press dry. Cut buckram slightly narrower than bag and ½" shorter in length. Hold in bag, ends even and fold flap between 14th and 15th ribs. Cut lining ½" larger, fold edges over on back of buckram and fasten with sticky tape, making lining tauter lengthwise than buckram. Sew in bag. Fold top of gussets lengthwise down to circle, wrong-side-out, press fold, line on wrong side and sew one in each end.
CORD: Cut 4 strands 6⅔-yds. long, (double and twist tightly) twice. Fasten loose end. Sew around edge of bag, except across top of front.
BUTTON: Ch 2, 6 sc in first st. In back loops, 2 sc in each sc. Sc in 24 sc (2 rows). (Sc in next second sc) 5 times. Stuff with a 12" strand of yarn, then cotton, close with sl sts. Make two and sew below flap, 3" from each end. If wanted, a metal, wood or shell slide or button may be used for closure. Fasten to crocheted loop or thru the button.
LOOP: Ch 19, skip 4 sts, (dc in next 4, 6 dc in next st) twice, dc in 5 sts. Fasten off. Make 4. Sew together in pairs, back-to-back. Steam and press thru a cloth and sew to flap to match buttons.
other patterns in leaflet: