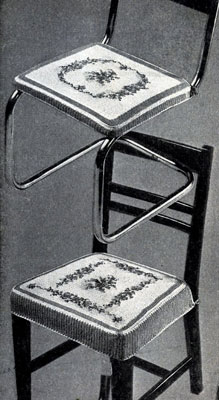 This beautiful needlepoint-like design embroidered on plain crochet may be made to any size for large or small seat covers. It is shown on a dining chair and on the square seat of chrome furniture,—may be shaped to fit bridge chairs quite simply. Even crocheted large enough for a card table cover by increasing the dimensions.
All stitches should be firm and even for best results. Fit carefully and tightly to the chair to be covered—figure that there will be some stretch, and crochet to block to actual size. Ties may be attached to fasten under the seats; or side band made long enough to tack to underside of seat.
Loose seats on dining chairs may be removed and a crocheted cover fastened to the seat just like the original upholstering.
Davenport cushions, suggested in Trailing Vine design, may also be done in Needlepoint crochet, or crochet one side in each design for a reversible cushion.
The embroidered design is cross stitched in bright colors on Ivory background in the original but may be done in a single color to match the side band, if wanted (add one ball of border color for this).
Gauge—5 sc = 1 inch. Border will add ½" each side.
MATERIALS: 4 balls color A for background.
3 balls color B for border.
1 ball each of rose, lt orchid, dk orchid, tearose, lt and dk green for embroidery (enough for several covers).
3 balls background—2 balls border color will be needed for chrome chair seat cover.
With Color A ch 83, 82 sc on ch.
ROW 2: (Ch 1, turn, sc in 82 sc across), 5 times.
ROW 7: Ch 1, turn, sk 1 sc at each end of row (80 sc).
ROW 8 through 16: Ch 1, turn, sc in each 80 sc across.
ROW 17: Repeat row 7 (78 sc).
ROW 18 through 26: Ch 1, turn, sc in each 78 sc across. Repeat from row 17 through 26, 5 more times. Fasten off.
BORDER—Join Color B, work sc in end of each row along sides and sc in each sc across ends, with 3 dc in each corner st, working in back loop of sts, make 2 more rows same as last row.
Join Color A, work sc in both loops of each st around without increases at corners. Stretch and pin right-side-down to exact size of chair, steam and press dry.

Charts show motifs for center and front design on dining chair cover. Find center of front of piece on fifth or sixth row and starting from center of chart (marked C) make cross stitches in each sc across, in color indicated by symbol in chart. Stems at each end may be lengthened for wider covers. That part of the chart between arrows is used to re­peat the design on sides and back; also on the smaller covers. On the cover for chrome chairs, the motif pictured is the end flowers, worked with stems connecting to the side motifs.
SIDE BANDS: In Col B, ch 17, 16 sc on chain.
ROW 2: Ch 1, turn, sc in each 16 sc across. Repeat this row to reach around both sides and front. Fasten off. In color A make sc all around. Steam and press and sew to top, using one loop of sts only. Make another band to fit across back.
TIES: Cut a strand 56" long, double and twist tightly, twice. Tie loose ends. Sew one to each back corner of band.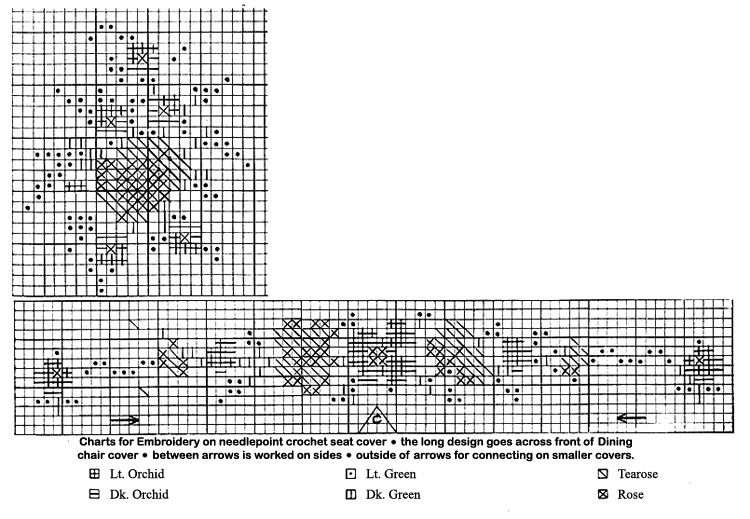 other patterns in leaflet: