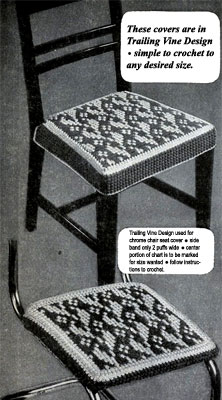 Practical and Pretty—these chair seat covers dress up worn seats • renew the seats on metal furniture • may be used on cushions for a davenport or overstuffed chair that has started to show its age.
Plain crochet—puff stitch, or combinations of the two are used for the covers shown.
The Trailing Vine design (pictured on the dining room chair) is done in Puff Stitch and plain crochet—a combination that makes for a carved or embossed surface. The puffs (in solid black on chart) make the embossed effect—the colored portions between are sc stitches (plain white on the chart—2 sc for each square).
"Trailing vine" can be crocheted to fit any size chair—with or without side bands—deep side bands may be in puff stitch (see dining chair) or plain crochet for the thin seated metal furniture, to tie or tack under the seat.
Seat pads in all shapes, padded to any desired thickness, are ideal for plain wooden or glazed fabric seats; they take away the chilling shock through thin garments, in kitchen, bedroom or bath. Crochet them in either design.
TRAILING VINE DESIGN
| | | |
| --- | --- | --- |
| MATERIALS:—Enterprise Yarn | Color A for Design | Color B for Background |
| Metal Furniture Cover | 2 Balls | 3 Balls |
| Dining Chair Cover | 2 Balls | 4 Balls |
| Seat Pad | 2 Balls | 2 Balls |
| Steel Crochet Hook No. 1 | | |
The instructions follow for the dining chair size—approximately 17" across front, 13½" at back and 14" from front to back. Side band is approximately 3".
For smaller furniture cover, pencil in the center portion of chart to be followed for size wanted. 5 squares on chart = approximately 2"—some variation will be noticed if your sts are tighter or looser. Measure work to chair to be covered—allow ⅝" each side for border.
In B, ch 84, 83 sc on ch. Ch 1, turn, sc in last 3 sc, joining A through 2 loops of final sc. In A, working over B, 2 dc in next sc, holding the last loop of each dc on hook, yarn over and through all 3 loops at once, sc in next sc, pulled down tightly, so the puff st puffs out on back (right side of work). This completes 1 puff st. 1 puff and 1 sc, pull up B taut and join through sc, and working over A, *(4 sc in B, 1 A Puff St) twice, 6 B sc, 2 A Puffs. Repeat from * twice. 4 B sc, 1 A puff, 4 B sc. Ch 1, turn, ** 4 B hdc, 2 A sc, 4 B hdc, 4 A sc, 6 B hdc, 2 A sc. Repeat from ** across, ending with 3 B sc. This completes bottom row of chart. Measure this row to front edge of chair to be covered, allowing for border which will add all around. If not correct size, add or subtract 1 or more squares on each side of chart, following design, to desired size.
ROW 2—Ch 1, turn, 3 B sc, (1 A puff, 10 B sc, 2 A puffs, 6 B sc) across, ending with 1 A puff. Ch 1, turn, 2 A sc, (10 B hdc, 2 A sc, 6 B hdc, 4 A sc) across, ending with 3 B sc. This completes Row 2 on chart. Continue in same way, following chart.
At ROW 5, decrease at each end of Puff row:—Start with ch 1, turn, sk last hdc, 2 B sc. End row with (a puff, 1 sc) twice and 1 more sc, all in A, decreasing 1 st at end. Ch 1, turn and complete chart row with sc on hdc.
Follow chart to work across rows to complete design, decreasing at each end of ROWS 6, 12, 13, 19, 20, 26 and 27, by skipping one st at beginning and end of each row.
BORDER—When completed to proper size, work a row of sc in B all around. Turn wrong side up, and make a row of puff sts around in A. Across front and back, have puffs in line with puffs in previous rows. On sides, make puffs in sc in center of rib. Add 2 extra puff sts at corners. Ch 1, turn, and make 1 sc in each st around. Stretch and pin right-side-down in exact size of chair, steam and press dry.
SIDE BAND—In B, ch 14, 13 sc on ch, * Ch 1, turn, 1 sc, (a puff, 1 sc) 6 times, or to depth needed to cover side of chair (i.e.—only 2 times for chrome chair style). Ch 1, turn, 13 sc. Re­peat from * to reach around both sides and front. Fasten off. In A, make sc all around. Steam and press and sew to seat, going through one loop of each st. Make another band to fit across back —long enough to fit between risers on chair.
The side band also may be in plain cro­chet as on the Needlepoint Crochet Seat Cover Pattern.
TIES: Cut a strand of B 56" long, double and twist tightly, twice. Tie loose end. Sew to one back corner of band. Repeat 3 times.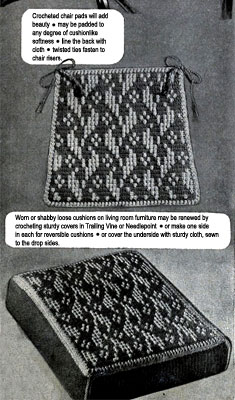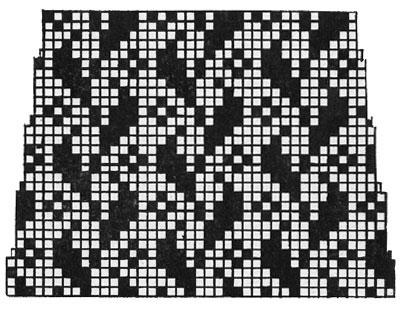 other patterns in leaflet: