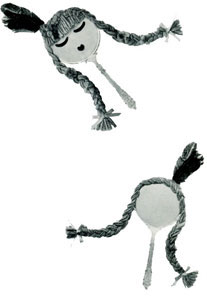 Materials Required:
AMERICAN THREAD COMPANY "AUNT LYDIA'S" HEAVY RUG YARN
1 - 70 yd. skein Lt. Blue
4½ inch Circle White felt
Scraps Red and Black felt
1 Hand Mirror
Glue
Flowers, feathers
½ yd. narrow ribbon
Glue White felt circle to back of mirror. Cut 2 half moon sections Black felt and glue in place for eyes. Cut a small heart shaped section red felt and glue in place for mouth.
Cut 16 strands Lt. Blue into 1 yd. lengths. Tie strands tog about 1 inch from one end. Divide strands in thirds and braid to within 1 inch of other end taking care to keep braid flat. Tie end. Fold braid in half and glue in place to center top of mirror, then glue around sides as illustrated. Cut 12 strands 2½ inches long for bangs. Fold in half, and pull through edge of braid along top. Trim bangs evenly. Glue bangs in place leaving ends free. Trim with rib­bon, flowers and feathers as illustrated.
other patterns in leaflet: