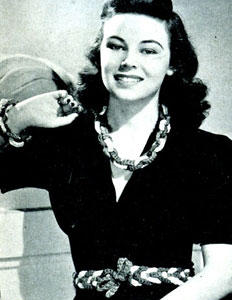 Materials Required - AMERICAN THREAD COMPANY "GEM" COTTON YARN.
If 2 or 3 Colors are used, 1 Skein of each Color will make the entire set. The set illustrated was made in Yellow, Blue and Red.
Necklace and Bracelet. Ch 8, join to form a ring, ch 1 and work 12 s c over ring.
2nd Ring. With another color, ch 8, slip the end of ch through 1st ring, join and work 12 s c over ring. Repeat 2nd ring for desired length. Finish bracelet and neck­lace with clasps or crochet a ch at each end for tying.
Belt Rings. Ch 12, join and work 18 s c over ring. Work as many rings as required in any two Colors desired.
Weaving Band. With a third Color or one of the Colors used, make a ch about 40 inches long and work a row of s c on ch.
Weave in Rings as Follows. Place 2nd ring under 1st ring and weave band through 1st ring and under second then over upper half of 1st ring and under 3rd ring. Continue in same manner always placing next ring under the last ring. Leave about 6 inches of band for tying.
other patterns in leaflet: