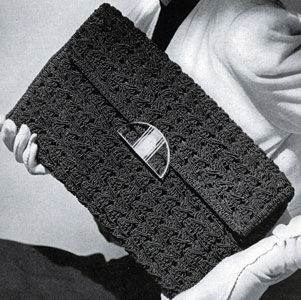 Jack Frost Cordet—5 75-yd. Tubes
Interchangeable with Soutache, Knitting Worsted or Kordette
Size 5 White Crochet Hook
Row 1—Ch 61. Work 1 s c in 2nd ch from hook and each remain­ing ch (60 sts). Ch 3, turn. Row 2—* Skip 1 st. Work 1 d c in each of next 3 sts, 1 d c in the skipped st; repeat from * across row (15 patterns). Ch 3, turn. Repeat row 2 for 38 rows (18 in.).
FINISHING—Work 1 row of s c around 4 sides. Fold up 8 in. and join with 1 row of s c on each side. Turn down remaining 2 in. for flap.
other patterns in leaflet: