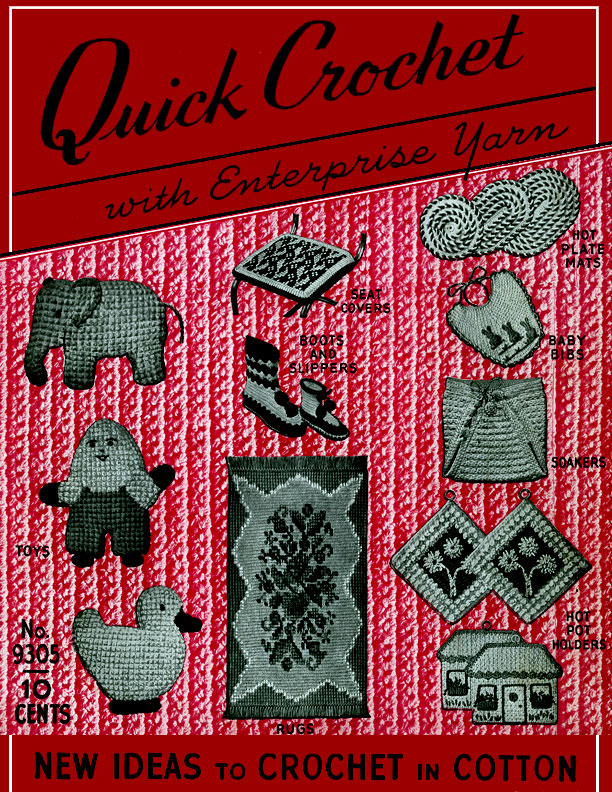 Quick Crochet with Enterprise Yarn
Book 9305
The Thread Mills Inc
No Original Copyright
Patterns Included:
Cottages Pot Holder, Posy Pot Holder, Ear of Corn Pot Holder, Trailing Vine Chair Seat Cover, Needlepoint Crochet Seat Cover, Grecian Block Seat Cover, Alphabet Nursery Rug, Bag for Shopping or Knitting, Crocheted Handbag 1, Basket Weave Rug, Pants Pot Holder, Crocheted Handbag 2, Dutch Cap, Humpty Dumpty Doll, Duck Toy, Jumbo Elephant Toy, Bunny Toy, Scottie Dog Toy, Star Rug, Fern Leaf Place Mat, Toilet Seat Cover, Blossom Time Rug, Rug & Toilet Seat Cover, Crocheted Soakers, Bunny Baby Bib, Hot Plate Mats, Pirate Boots, Sandals, Scuffs, Casuals, Jaunty Junior Boots, Military Boots, Rug & Hot Pot Holder in Rick Rack.
FURNITURE REPAIRS
Some unusual ideas for renewing worn and faded chair seats are included. The simple instructions for crocheting permit larger or smaller dimensions, so that any size can be made and most types of chairs covered. The covers, when crocheted of Enterprise Yarn, are heavier than most woven fabrics—being fast color they can be laundered often.
The Trailing Vine Design permits a wide variety of sizes to be covered—this overall design may be in any color scheme. Needlepoint crochet has even more color and design possi­bility—almost any cross stitch design can be worked on the plain-crochet background. Each cross stitch is made over a crochet stitch so it is only necessary to count stitches in the piece to be embroidered to lay out any design.
The covers may be tied or tacked to the seats. If in light colors that are to be laundered, tying is to be preferred. Chair seats that are fastened to the frame with screws may be removed to cover. Replace old upholstery with a clean piece of muslin if badly soiled.
On metal furniture place the ties at the back to fasten to the risers, or make the drop deep enough to tack beneath the seat. If drawn tightly when tacking, no fastening is needed at front or sides, for it will curl in under the thin seats of this type chair. This type of cover on a loose cushion, as well as on harder chairs, should be very tightly crocheted. Generally given hard usage, they should be very tight when stretched on the seat to prevent bagging.
HOUSE SLIPPERS
The slippers and boots are ideal for bedroom and other indoor use. The sturdy sole may be re­inforced with flexible fiber board placed between the double layers. Coat the outer sole with lacquer to harden it for longer wear. They make ideal Christmas gifts and will be found warm and serviceable. The directions tell how to make to any desired size.
TOYS
Soft "Sleepy Time" Toys make ideal stuffed toys for a child. The shapes that can be made from these simple instructions are without limit. There are five pictured—all to be done in Puff Stitch as in the rugs. Fill in the designs on graph paper,—each square is a puff stitch (about ½" square) and almost any shape like the Humpty Dumpty can be used. Use cotton or wool for stuffing—a piece of quilt batt will do. The toys are soft—a child can roll on them and not be dis­turbed. The stuffing is removed when soiled—the toy washed and re-stuffed and is as good as new again.
ABBREVIATIONS
| | |
| --- | --- |
| chain | ch |
| single crochet | sc |
| half double crochet | hdc |
| double crochet | dc |
| long single crochet | lsc |
| picot | p |
| skip | sk |
| slip stitch | sl st |
| space | sp |
| stitch | st |
| stitches | sts |
| treble | tr |
| increase | inc |
| decrease | dec |