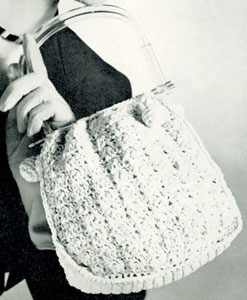 Materials Required:
3 Spools FAIRKNIT Straw
Bone Crochet Hook #3
FAIRKNIT Plastic Handles #9500
Gauge: 7 sc—2"
Pattern: Row 1: sc in 2nd ch from hook, sc in each ch across, ch 1, turn.
Row 2: *sc in next st, skip 1 sc, dc in next sc, dc in skipped sc, sc in next st, repeat from * across, ending sc in last st, ch 3, turn.
Row 3: ch 3 (counts as 1 dc), * sc in each of next 2 dc, dc in next sc, repeat from * across, ending dc, ch 1 turn. Repeat rows 2 and 3 for pattern.
(Make 2) Make a ch 7½" long (approx 25 ch). Work in pattern for 7½". Fasten off.
Side and bottom piece: ch 15, sc into 2nd st, sc across (14 sts). Work back and forth in sc until piece measures 21" to cover three sides of bag. Sc together side piece to front and back pieces. Sc onto frame. Work 4 balls of sc stuffed with cotton to be put at end of each rod.
Other great patterns from Fashion Stoles and Accessories, Book No. 17.
Crochet Patterns
Half Shell Ribbon Hat
Fold-Over Bag
Ribbon Hat
Cinch Belt
Purse A'Glitter
Coronation Hat
Juliet Cap
Juliet Bag
Straw Pixie Beret
Straw Pixie Belt
Polka Dot Cloche
Polka Dot Bag
Three Fold Bag
Mamie's Hat
Three-Sided Bag
Turned Up Brim Hat
Drawstring Bag
Tippy Hat
Ribbon Cloche
Ribbon and Metallic Bag
Crocheted Ribbon Stole
Ribbon Cute Clip-On Hat
Knitting Patterns
Tri-Shape Loop Stole
Silk Corde Ascot
Anchor Corde Hat
Lacy Stole with Angora Pockets
Lacy Poodle Stole
Fringed Angora Triangular Stole
Ribbon Bolero
Poodle Cape-Stole