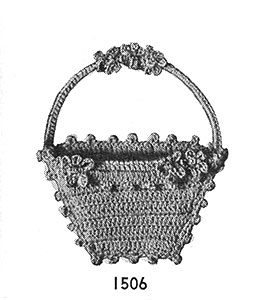 MATERIALS REQUIRED—American Thread Company Sillateen Sansil.
1 Ball Pink and about 3 yds. of Blue for trim.
Steel Crochet Hook No. 11.
Ch 24, 1 d c in 4th st from hook, 1 d c in each remaining st, ch 3 turn and work 7 more rows of d c taking up back loop of st only and work 2 d c in first and last st of each row.
Next Row—Same as last row working a picot of ch 4 after every 4th d c and taking up both loops of st. Work a second section.
Crochet the 2 sections together with s c working a picot after every 3rd s c.
Take 6 strands of thread and s c over it for handle. Tack in position. Flowers ch 7, sl set in first ch made, * ch 6, sl st in same st, repeat from * 3 times.
Leave about 8 inches of thread, work a French knot in center of flowers and sew to bag.
other patterns in leaflet: