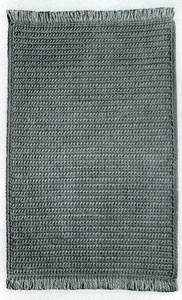 Materials: KENTUCKY LUSTERSPUN YARN— Crochet Hook Size I or 8—For Rug 18" x 26"*—6 Skeins (Foundation Chain 45)—For Rug 20" x 30"*—8 Skeins (Foundation Chain 50)—For Rug 22" x 34"*—11 Skeins (Foundation Chain 55) * (Includ. Fringe) (Chain-approx. 2½ ch per in.)
Instructions
for Rug 22" x 34". To start, use single thread, chain (ch) 55, turn on 2nd ch from hook, 54 sc on chain.
Row 2
—Ch 1 to turn, sc in each sc to end of row.
Row 3
—Repeat.
Row 4
—Repeat. Repeat for 80 rows (40 panels). Now the body of Rug should be about 30" long. You should have 8 rows (that is 4 panels) every 3 inches, for best results. To finish body of Rug, make 1 row of sc around four sides of Rug, inc 3 sts at each corner to turn. For improved edge sl st around entire rug. Add fringe at ends.
Other great patterns from Rugs, Sweaters, Pot Holders, Lamp Shades, Book No. 107.
Knitting Patterns
Cable Knit Sleeveless Sweater
Slipover Sweater
Child's Beret
Checker Scarf
Mittens

Crochet Patterns
Hexagon Rug
Rectangle Rug I
Rectangle Rug II
Oval Rug
Circle Rug
Pinwheel Potholder
Square Potholder
Table Pads
Place Mats
Craft Patterns