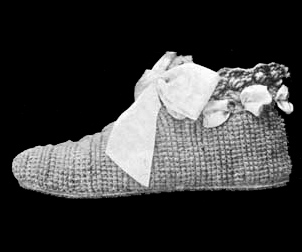 MATERIAL-4 skeins of color Woolco Germantown Zephyr. No. 3 ½ Woolco hook. 1 pair soles No. 4. 1 ½ yards ribbon.
Chain 17.
1ST AND 2D ROWS-Plain afghan stitch.
3D, 4TH AND 5TH ROWS-Reversed afghan stitch. Pick up 8 stitches, increase 1 stitch by taking a stitch between the 2 perpendicular loops, take up a loop, then increase 1, then pick up 8 loops. There will now be 19 loops on needle.
6TH AND 7TH ROWS-Plain afghan stitch. Increase in every other row.
Continue making 2 rows plain afghan stitch and 3 rows of reversed afghan stitch until there are 35 rows.
Then pick up 17 stitches, work 52 rows even, same as front.
Join to front.
Make 1 row of single crochet, 1 stitch in each row around top.
Then 1 row of 1 double crochet and 1 chain in every other stitch.
Work 2 rows of crazy stitch around top.
other patterns in leaflet: