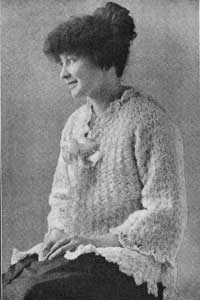 MATERIAL-1 box of white and 2 skeins of color Woolco Shetland Floss. No. 4 Woolco hook. 2 yards of ribbon.
With white chain 94.
1ST ROW-*1 single crochet in 1st stitch, 2 chain, 1 double crochet in each of the next 3 stitches. * Repeat between *'s, make a single crochet in last stitch, turn, chain 1.
2D ROW-*1 single crochet, 2 chain, 3 double crochet* in the 1st single crochet. Repeat between *'s in chain 2. End row with single crochet. Repeat 2d row until work measures 16 inches. Chain 54 stitches for sleeve, then work 1st row on chain and 2d row across back, add chain of 54 stitches for the 2d sleeve. Work even 8 inches. Then work 21 shells, turn, work 3 rows on these 21 shells.
5TH ROW-Increase 1 shell by making a shell in the last single crochet, turn, chain 1.
6TH ROW-Make a shell in the first double crochet.
7TH ROW-End with a single crochet.
8TH ROW-Even.
Repeat from 5th row twice.
17TH ROW-Work 11 shells, turn, then work even until front is as long as back. Make the other front same. Join yarn at 1st shell in back of neck, make 7 shells, work 9 rows even.
Sew up sleeves and underarm, leaving 6 rows at lower edge open.
Finish with a shell of *6 treble crochet, with 1 double crochet* in every shell and row around kimono and sleeves. Finish with a picot of color.
*1 single crochet, 3 chains* in every stitch.
other patterns in leaflet: