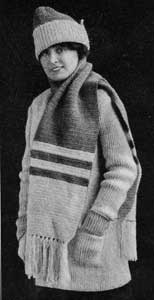 MATERIAL-5 skeins white and 6 of color Woolco Germantown Zephyr. No. 4 Woolco hook.
With white chain 55. Work 40 rows even in single crochet, taking both loops.
*4 rows of color, 6 white. * Repeat once.
*With color insert hook in both loops, draw yarn through, wrap, take off 1 loop, wrap, take off 2 loops.* Repeat across row. Work even for 38 inches. Reverse for other border.
With white cut fringe 12 inches long, knot 4 strands in every 3d stitch.
other patterns in leaflet: